Let our experience work for you. Since 1934, Minneapolis Washer and Stamping has serviced many of the most reputable companies in the world.
Our sales department is second to none. We pride ourselves on our in depth knowledge of fasteners and component parts. Your questions are welcomed; we are here to serve your needs.
Minneapolis Washer is an ISO Certified company. Quality, on time delivery and efficient operation are mandatory attributes of a successful manufacturing company today. Minneapolis Washer is a veteran manufacturer that continues to evolve and exceed the expectations of our customers.
ISO CERTIFIED WASHER EXPERTS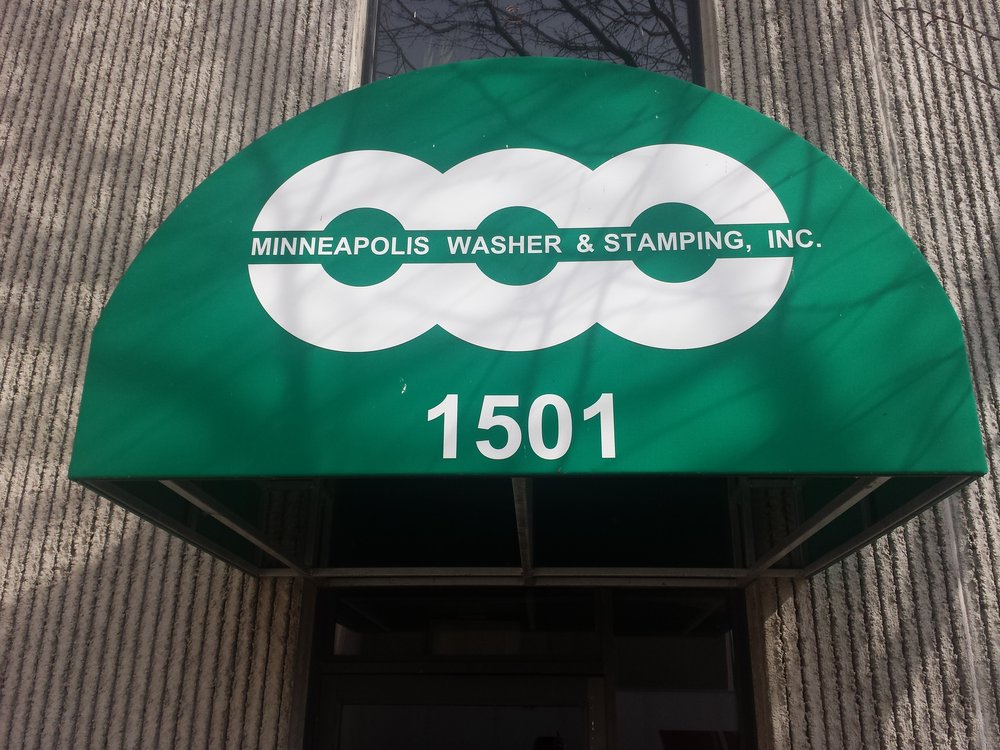 The Evolution of a Domestic Stamping Business
Minneapolis Washer and Stamping, Inc.
– Celebrating 80 Years and the 3rd Generation!!!
April 6, 2014 marked the 80th anniversary of Minneapolis Washer and Stamping, Inc. From humble beginnings, Minneapolis Washer is more viable and productive than ever before. Minneapolis Washer has succeeded by evolving and embracing change in products, production processes and variable economic environments as a team. MWSI is now a third generation run; family owned company in which over 50% of the current staff has more than 25 years of service expertise with MWSI.
The following, is the abridged history of the company.
In 1934, Evald C. Bank (E.C. Bank) was selling insurance for the W.B Foshay Companies in Minneapolis. Realizing that the financial environment in post-depression Minneapolis was not an ideal situation for a commodity-based insurance salesperson, EC Bank began looking for other business opportunities. Eventually, he came upon a small, seasonal, 3-press stamping company located in downtown Minneapolis, on what is now the campus of the University of Minnesota.
The company E.C. found was named Minneapolis Wrought Washer and was for sale on a contract for deed. Minneapolis Wrought Washer was a three-man operation that serviced the railroad industry. It consisted of three line shaft driven presses and the manufacturing facility was actually a tin-roof shed building. Complete with drop down tarp sides to seal in heat and protect from inclement weather, the company ran from April-October depending on the weather in MN. At the time he found Minneapolis Wrought, EC and his wife were living in the basement of a large Minneapolis home owned by a wealthy lumber family. Their rent obligation was to maintain boiler heat in the winter months to heat the home. E.C. borrowed $3000 from a family member and purchased Minneapolis Wrought Washer on contract for deed.
A savvy salesman and manager, E.C. Bank took the company through its infancy and brought it into prosperity in the years following the Great Depression and World War II. Multiple manual presses, lathes and tooling were added. To accommodate the expansion, the company was moved to larger, more accommodating locations as it grew. A successful businessman and Rotarian, EC manned the helm at Minneapolis Wrought Washer for almost 35 years. (Much to the chagrin of the of the original owner, who had received it back on contract for deed twice before 1934). As demand from the railroad industry began to diminish, EC turned the focus of the company to standard size, domestically produced flat washers and special stampings. Primarily producing product made from mild steel and spring steel.
In 1967, E.C. Bank encountered health issues. He contacted his son, Kent M. Bank to see if he had interest in coming into the family business.
At the time, Kent was working at an advertising agency in Chicago and was on his way to a successful career. He recognized the opportunity presented to him and, at the tender age of 25, Kent accepted the offer. Due to E.C.'s health condition, Kent moved back to Minnesota and immediately took the reigns of Minneapolis Washer. His mentor, in addition to E.C., was superintendent Kermit "Slim" Gilman. Slim was an original employee from 1934 and provided excellent support and guidance for Kent, especially in the first few years of the transition. A business graduate of the University of Colorado, Kent brought a fresh outlook and clearer identity to the company. More manual as well as automatic presses were purchased and quality-oriented systems were put in place, adding to the capacity and capabilities of the company.
A strong focus on customer service along with growing the scope and overall customer base of the business were paramount to Kent. 1972, Minneapolis Wrought Washer had a push for exponential growth – office personnel, manufacturing staff and outside sales professionals were hired to help facilitate the expansion. The company had great momentum and became the largest washer specialist west of the Mississippi. Many of the 1972 new hires remain employed at the company today. This veteran team of dedicated employees averages 25 years of stamping business experience with the company.
1977 was a land-mark year for Minneapolis Washer and Stamping, Inc. The company was moved to a brand new, custom built building on the shores of the Mississippi River in Minneapolis. The new 44,000/sq. ft. facility, complete with in-house de-burring, an expanded tool and die facility, more efficient design flow and additional room to grow enabled Minneapolis Washer to really stretch its legs and expand its capabilities. With added manufacturing and storage space, additional staff and manufacturing personnel were also added. The crew size at the company had more than doubled. Increased infrastructure was matched by increased backlog. The company began running 3 shifts, 5 days per week.
One of the industry's first fully computerized quoting system was installed in 1977. Constant upgrades and improvements have been made over the past 30 years to the company's operating systems. Minneapolis Washer combines real-time quoting, real time order status, real time shipping information and internet-based communication with its customers.   From before the time of the Telex (for those who remember), Minneapolis Washer has relentlessly strived to accelerate the speed of business while increasing the quality.
With the recession of the early 1980's, Minneapolis Wrought Washer again had to re-focus and evolve as a company to survive. The standard washer business was in the early stages of off-shore outsourcing. Kent Bank recognized that the stamping world was shifting as a new global economy was evolving. Standard size washers were a commodity based business where foreign countries were capable of being price competitive. The shift in focus created a migration to specialize in built to print special washers and stampings began and continues through today.
Minneapolis Wrought Washer celebrated its 50th anniversary in 1984 by officially changing its namesake to Minneapolis Washer and Stamping, Inc. The name was seen as a more accurate, informative way to refer to the company. Interestingly, at one time there were numerous companies using the term "wrought" as part of their name. The original Minneapolis Wrought Washer logo was evolved to reflect the new Minneapolis Washer and Stamping name but also to hold true to the company's original corporate branding.
Dennis Barthel, Head Foreman at Minneapolis Washer and Stamping, has been with the company for 42 years. Dennis is an innovator and excels at generating the highest levels of performance from the equipment and manufacturing staff. Through automation, in-house tooling and secondary services, relationships with vendors and a passion for the stamping process, Dennis and his staff today are over 150% more productive now than they were years ago with a staff less than half the size.
In the early 1990's, Minneapolis Washer and Stamping recognized the need for a quality-focused process control system to be put in place. A Continuous Improvement program rolled out in 1993. This award winning program was instituted by Executive Operations Manager, Paul Spaulding. In an effort to constantly evolve as a company, the Continuous Improvement Program has been ongoing and has provided a measurable, visible vehicle to constantly push forward in the relentless pursuit of quality improvement at Minneapolis Washer and Stamping, Inc.
The Continuous Improvement project initiated by Paul proved to be a spring-board toward additional quality oriented programs. In 2003, Minneapolis Washer and Stamping, Inc. passed its audit and was awarded ISO 9001:2000 status by DNV of Houston, TX. Quality, on-time delivery and process documentation in manufacturing are an expectation from the customer and Minneapolis Washer strives to meet and exceed the customer's expectations with every job produced.
Kent M. Bank retired in August of 2010 after over 40 years at the helm of Minneapolis Washer and Stamping, Inc. In October of 2010, Kent passed away in a pheasant hunting accident. The family takes solace by knowing that he departed while enjoying his favorite past time.
Oldest son, Chris Bank, assumed the role of President/CEO upon Kent's retirement in 2010. The company officially entered into its current tenure as a 3rd generation, domestic manufacturing company. Chris graduated from the University of St. Thomas in MN, and has an extensive background in sales and marketing, as well as manufacturing. Through years of preparation, Chris was well-prepared for the transition. Goals of organic new customer growth, new growth with existing customers, expansion into complimentary markets, blended sourcing and new company acquisition have been the primary focus of the company since Chris took over.
The staff at Minneapolis Washer and Stamping, Inc. prides itself on providing the highest levels of personal service that started the company on its way in 1934. It began with an insurance salesman E.C. Bank, was continued on with Kent M. Bank with his staff, and now continues with the team today with third generation sons Adam and Chris Bank. Processes may have changed, the equipment has improved, and business today is done at an accelerated rate; but the core of what the company has done for nearly a century has remained unchanged. The goal at Minneapolis Washer and Stamping, Inc, is now, and has always been, "Customer Satisfaction".

2016-02-23T17:08:46+00:00

100% of Our Products are Manufactured in the USA